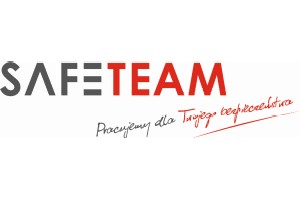 SAFETEAM is a company providing training services, organized by a team of specialists with many years of experience in designing and implementing training courses to raise professional qualifications.
The wide SAFETEAM offer includes, among others, the following courses:
- technical equipment: forklifts, mobile platforms, gantries, cranes
- construction machinery: backhoe loaders, excavators, loaders, road rollers, scaffolding assembly
- operators of machines and technical devices: construction dumpers, crushers, compactors,
- electrician certificates,
- welding with all methods,
- health and safety and first aid trainings.

Our customized trainings meet highest quality standards and stay long in participants memory allowing them to easily identify and assess danger and risk at workplace also our team consultative approach is designed to meet customer needs. In SAFETEAM we are constantly developing our offer thru open dialogue with our clients and by expanding traditional approaches to develop creative and innovative solutions to meet unique requirements of our clients in the area of health and safety at work.
We work for your safety.
ul. Opolska 10, 31-323 Kraków

+48 12 307 07 63

biuro@safeteam.pl

https://safeteam.pl/