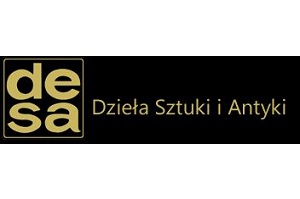 DESA Works of Art and Antiques Sp. z o. o. is the oldest company in Poland on the art market, operating continuously since 1950. It conducts commercial and culture-creating activities, secures valuable works of art for museum collections, and promotes works of contemporary art and its creators through presentations at home and abroad. It has experienced and qualified appraisers, including court experts who carry out expert opinions, assessments and valuations of works of art.

DESA has antiquarian stores throughout the country and an Auction House in Krakow.

It maintains antiquarian and collector contacts with auction houses in the country and abroad, especially regarding all items related to Poland, among others: Christie's, Sotheby's, Dorotheum, Nagel, Drouot. It cooperates in the field of substantive consultations with national and foreign museums.
ul. Floriańska 13, 31-019 Kraków

+48 12 422 19 66

biuro@desa.art.pl

http://desa.art.pl/